Pakistan is endowed with a rich variety of native animals and migratory birds.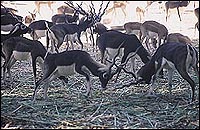 Its varied topography and climate accommodate a great range of fauna. To preserve the nature and wildlife, there have been several areas declared as national parks in Pakistan. In these parks there are great chances to see the animals & birds in their natural environment.
There are several kinds of birds and animals in Pakistan with the following few worth mentioning: The Brown Bear, Common Otter, Alpine Weasel, Stoat, Lynx, White-toothed Shrew, Persian Wild Goat, Sand Fox, Sand Cat, Gazelle, Fishing Cat, Hog Deer, Pangolin, Rhinoceros, Leopard Cat, Grey Goral, Barking Deer, Wild Goat, Ibex, Markhor, Wild Ass, Himalayan Beer, and several kinds of Sheep.
In the list of birds, apart from native species, one can watch several migratory birds while participating in this program. Being situated on one of the major routes from Central Asia and Siberia known as the Indus Fay Way No. 04, Pakistan is an important haunt for migratory waterfowl.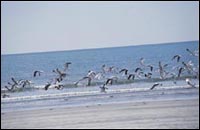 A number of lakes, ponds, marshes, canals and rivers make an ideal wetland habitat for the waterfowl and offer excellent harbour to a large variety of migratory population during each winter. Haleji, a lake near Karachi has been declared as Wetland Bird Sanctuary while Keenjhar in Sind, Ochali in Sakesar and Chasma are just a few of the many important places. Some birds likely to be watched en-route are Flamingoes, Sea Gulls, species of Duck, Whimbrel, Egrets, Jacana, Eagle, Herons, Falcon, Koonj, Whimbrel, Goose, Cormorat, Hubara Bustard, Sandgrouse, Bee Eater, King Fisher and many others.
Due to the drastic contrast in climatic weather, we have categorized our tour in two parts, the winter for the southern part of the country and the summer for northern areas.
ITINERARY - I ( South / Winter )
No. of days : 11
Camping Days : 01
Areas Visited : Haleji Water Sanctuary & Lal Suhanra National Park
Best Season : October to March
Day 01 Arrival Pakistan ( Karachi )

Welcome in Pakistan at Karachi and transfer to hotel. In the afternoon we will make a city sightseeing tour of old & new city of Karachi.

Day 02 Karachi - Haleji Lake

Visiting historical sites of Chaukundi tombs and Bhambore, where Arab general Muhammad Bin Qasim landed in eighth century A.D. we arrive at Haleji Water Sanctuary, and a paradise for bird watchers.

Day 03 Haleji Lake - Bird Watching

There are several hideouts for bird watchers where we stay to watch birds. The whole day is free for boating and watching birds. Marsh Crocodiles are likely to be watched by chance.

Day 04 Haleji Lake - Keenjhar Lake

Visiting the largest necropolis in the world, Makli and then Thatta, a town built by Shah Jehan, the Mughal emperor, we arrive at Keenjhar, a vast lake in Sind. There are great opportunities to watch several species of migratory birds.

Day 05 Keenjhar Lake - Bird watching

Boating and bird watching for the whole day will be the prime activity.

Day 06 Keenjhar Lake - Sukkur

We will depart for Sukkar, a famous city of Sind Province on the bank of River Indus. We visit the huge suspension bridge, a piece of master engineering at Sukkur.

Day 07 Sukkur - Bahawalpur

Driving on National Highway, we arrive at Bahawalpur, the capital of formerly state, merged in to Pakistan and transfer to hotel for overnight.

Day 08 Bahawalpur - Lal Suhanra National Park

We will depart for Lal Suhanra, a semi-wild park with Black Buck, Hog Deer, Chinkara Gazelle, Neel Gaey, Rhinoceros, Hubara Bustard and other species of animals and sty there for overnight.

Day 09 Lal Suhanra National Park

At Lal Suhanra, we will watch the wildlife with additional attraction of wild boar hunting and fishing possibilities, if interested.

Day 10 Bahawalpur / Karachi

In the morning we will drive to Bahawalpur to catch a flight for Karachi where the evening is free for packing and shopping of souvenirs.

Day 11 Departure

Our staff will provide transfer and assistance at departure and say bon voyage for your onwards journey.
End of the Tour
ITINERARY - II ( North / Summer )
No. of days : 15
Camping Days : 02
Areas Visited : Ayyubia National Park & Khunjerab National Park
Best Season : Mid June to September
Day 01 Arrival in Pakistan

Welcome in Pakistan at Islamabad and transfer to hotel. In the afternoon we will make a city sightseeing tour to Rawalpindi and Islamabad, which offers a great contrast of culture, archaeology and planning. Rawalpindi is an old city with narrow lanes and bustling bazaars while Islamabad is a modern and the only planned city of Pakistan serving as the capital of the state. Raja Bazaar, Murree Road, Lok Virsa Museum and Shah Faisal Mosque are the places of tourist interest included in the tour.

Day 02 Islamabad - Ayyubia National Park

We will drive to Ayyubia, a tourist spot with facility of chair lifts up to a vintage point with distant views of snowy Kashmir Mountains. Following the picturesque driving route to Murree, we arrive at Ayyubia where rest of the day is free for sidewalks in quite and serene forests.

Day 03 Ayyubia - Dunga Gali - Besham

At early morning, we will depart for trekking on pipeline trail with opportunity to watch several species of birds. Monkeys are also settled in this forest of Pine, Oak and Fir and likely to be seen. We will finish our trek at Dunga Gali and drive to Besham on KKH, along River Indus.

Day 04 Besham - Gilgit

Following the upstream course of River Indus, we will make photo stops at Shatial and Chilas rocks with ancient graffiti's on it. Nanga Parbat viewpoint offers breathtaking panorama while our next stop will be at the unique point where three mountain ranges, Karakoram, Himalayas and Hindu Kush meet and then the last viewpoint is the confluence of Indus and Gilgit Rivers before arriving at Gilgit.

Day 05 Gilgit - Karimabad ( Hunza Valley )

Gilgit has been the most important garrison town since ages. Now it is the largest and most important commercial center of the region, settled on the banks of Gilgit River.

After making a brief tour of the town, we depart for Hunza driving on KKH and make a spectacular stop at Rakaposhi viewpoint. Crossing several villages of Nagar and Hunza states, we arrive at Karimabad, the capital town of Hunza Valley.

Day 06 Karimabad - Excursion Khunjerab Pass

Today we will make a visit the Sino-Pak border at Khunjerab ( 4733m ), the highest point KKH. The area has been preserved as Khunjerab National Park. In the park Marco Polo Sheep, Golden Eagle, Alpine Choughs and Marmots are likely to be seen. In the evening we will drive back to hotel.

Day 07 Karimabad - Gupis

We will depart from Karimabad by jeeps to Kargah, a place known for the rock carved figure of Lord Buddha and continue driving to Gupis to overnight stay in tents.

Day 08 Gupis - Phander

Driving on Gilgit / Chitral route along Ghizer Rive, we arrive at Phander, the picturesque lake with delicious trout fish in abundance. A memorable night at Phander Lake is the highlight of the tour.

Day 09 Phander - Day Free

The whole day is free to watch the migratory birds in the lake and for side walks in the nearby village.

Day 10 Phander - Shandur Pass - Chitral

We depart from Phander and cross the Shandur Pass ( 3737m ) situated at the border of Gilgit and Chitral region. Shandur is known for its annual tournament of Polo and gala festival. From the pass we descent in to Chitral region and arrive in Chitral Town, the capital town of Chitral Valley.

Day 11 Chitral - Bamburet ( Kalash Valley )

Today we will visit Bamburet, the main village of Kalash, an exotic feature of the region as these tribes are contrast to rest of the country. Their culture, religion, customs and habitat is unique and interesting.

Day 12 Bamburet - Peshawar

We will make an early departure for Peshawar and crossing Lowari Pass and Malakand pass, we make a long drive to reach at Peshawar.

We will make an early departure for Dir crossing the Lowari Pass en route. From Dir we will continue our drive for Peshawar and cross another pass i.e. Malakand. On arrival in Peshawar we will transfer to hotel for overnight stay.

Day 13 Peshawar - Khyber Pass

Peshawar has witnessed the rule and climax of several civilizations as Khyber Pas was the easiest approach route from north towards the sub continent, making it the lone choice for the armies of Alexander, Ghaznavids, Ghauris, and Mughals. A trip to Afghanistan Border is beyond imagination where you still breathe in a world of tribes with their own law and order.

In the town, Peshawar Museum, Masjid Mahabat Khan, Qissa Khawani bazaar and a drive by Bala Hisar Fort is our main activity.

Day 14 Peshawar - Taxila - Islamabad

Following the G.T. Road, built by Sher Shah Suri, we arrive at Taxila, the famous capital of Buddhists. At Taxila, we will visit Jaulian Monastery and Archaeological Museum. Later resume drive and arrive in Islamabad, where evening is free for packing and shopping of souvenirs etc.

Day 15 Departure

Our staff will provide transfer and assistance at departure and say bon voyage for your onwards journey.
End of the Tour