A private estate at Nathiagali
Spectacular view
Spacious accommodation
Fully furnished
Private forest
Serene surroundings
All amenities provided-TV,dish etc
Total privacy
12 month accessability
Ample parking
Location
| | |
| --- | --- |
| | Located in the outskirts of Nathiagali, Gali's End is an exclusive private estate offering a spectacular view of the hills of Kalabagh, Nathiagali, Dungagali, Ayubia, Changlagali and, at a distance, Islamabad. |
| | |
| --- | --- |
| It's an idyllic retreat - a place from which to explore and enjoy cool woodland walks, trekking, horse-riding and nearby skiing in winter. And, for the very tired person, an ideal spot to put one's feet up and unwind. | |
Accommodation
The resort presently offers 4 independent sets of 1,2,3 and 4 bedrooms complete with baths and independent terraces.
Each set also has its own large lounge and dining area with fully equipped kitchen.
Guests are expected to take care of their own cooking in the kitchens which are fully equipped.
Reservation Arrangements and Other Information
Apartment 1 (1) bedroom accommodates 2 persons. Rs. 13000 per night.
Apartment 2 (2) bedrooms accommodates 4 persons. Rs. 24000 per night.
Apartment 3 (3) bedrooms accommodates 6 persons. Rs. 36000 per night.
Apartment 4 (4) bedrooms accommodates 8 persons. Rs. 48000 per night.
All rates are inclusive of taxes
Each Apartment can accommodate 2 extra guests at Rs. 2000 per guest per night. Total number of persons must not exceed 4,6,8 and 10 in Apartments 1,2,3 and 4 respectively.
Please ensure that the total number of people do not exceed what had been stated at the booking time. Otherwise it causes embarrassment and unpleasantness for both parties.
Discounts: One week's stay or more – 10%. 2 week's stay or more – 15%
Each apartment is provided with a fridge, Satellite TV (which can malfunction due to inclement weather - advisable to bring along DVD player), microwave oven, electric kettle, toaster, crockery, cutlery, pots and pans. Guests are requested not to use electrical equipment during low voltage. One set of bed-linen is provided. Longer duration guests may bring their own extra sheets. Guests are expected to bring their own towels, and also to take care of their own cooking in the kitchens, which are fully equipped.
Any personal attendant/driver/cook/maid will be charged at the rate of Rs. 1,000 per person per night. Please do not exceed 2 attendants per appartment in order to avoid inconvenience. We suggest that guests should arrive in joggers during the monsoons.
Heaters are available on request for which the management will provide gas at cost price from the market. Same is the case with wood for a bonfire.(Iron stands are provided so that fire is not lit directly on the Grass).Gas is purchased by the kilo and wood by the maund.
Booking Terms & Conditions
Bookings will be considered final on receipt of 100% pre-payment. Copy of the booking slip must be presented to the caretaker.
Payment must be made by cash, DD, or TT to A/c No. 00351005168926, Bank Alfalah, 1B Awan Arcade, Blue Area, Islamabad, in favour of Galis End
Arms, dogs, and pets are not allowed on the premises of the estate
Guests are expected to take care of the fixtures, furniture, and equipment provided in the apartments. Any damage caused will be charged accordingly
The Management reserves the right to ask the occupants to vacate the apartments at any time due to force majeure, indecent behavior, or breach of contract
Check in time is after 3 PM and check-out time of 12 noon. This should be strictly observed, unless otherwise arranged with the management.
Expatriates Please Note:
If there are any diplomats amongst you please ensure you have a No Objection Certificate (NOC) to travel out of Islamabad.Development workers and Tourists need only to provide photocopies of the 1st 2 pages of their passports.
These need to be handed over to the Caretaker on arrival who passes them on to the relevant Agencies.
Contact Infomation
Mobile: 0300-8564161, 0333-5636748
E-mail: galisend7@gmail.com
Website: www.galisend.com, http://panoramic.com.pk/specials/galis_end.html

How to Get There
Gali's End is located about 25 kilometers from Muree or Abbottabad, and a little over 70 kilometers from Islamabad.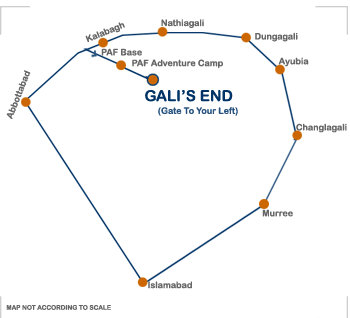 From Islamabad, it is a two hours drive via Murree and a three hours drive via Abottabad. If you are coming via Murree you turn towards Nathiagali from Murree. After about an hour you will reach Nathiagali Bazaar you cross that Bazaar and drive towards KALABAGH. Soon after the Kalabagh Check post you turn left and keep driving until you cross a camping ground and adventure park of the P.A.F, after which you will soon reach the gate of "GALI'S END" on your left. If you are coming via Abbottabad then you will turn right just short of PAF check post.