La stands for pass in Balti ( local language of Baltistan ). This program includes a visit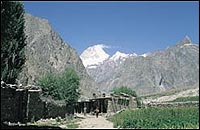 to the base camp of Masherbrum Peak and crossing Thalle La, which connects Thalle Valley with Shigar Valley.
Both parts include moderate grade trekking but with the spirit of adventure and wilderness. During this trek, we witness a different culture, landscape and habitat of three parallel valleys i.e. Hushe, Thalle and Shigar.
Day 01 Arrival in Pakistan

Welcome in Pakistan at Islamabad and transfer to hotel for rest. In the morning, we will visit ministry of tourism for a briefing session and for permit formalities.

In the afternoon we will make a city sightseeing tour Rawalpindi and Islamabad, which offers a great contrast of culture, archaeology and planning. Rawalpindi is an old city with narrow lanes and bustling bazaars while Islamabad is a modern and the only planned city of Pakistan serving as the capital of the state. Raja Bazaar, Murree Road, Lok Virsa Museum and Shah Faisal Mosque are the places of tourist interest included in the tour.

Day 02 Islamabad - Chilas

We depart from Islamabad and arrive at Besham crossing the famous towns of Abbottabad and Mansehra. Later on ffollowing the upstream course of River Indus, we will make photo stops at Shatial rocks with ancient graffiti's on it. After a long day aboard, we arrive at Chilas and transfer to hotel for overnight.

Day 03 Chilas - Skardu

We keep on following the course of River Indus, and make a brief stop at Chilas rocks carvings. Our next stop is at Nanga Parbat viewpoint which offers breathtaking views of the huge massif of Nanga Parbat. Before entering into the narrow gorge of River Indus, we make another stop at the unique point where three mountain ranges, Karakoram, Himalayas and Hindu Kush meet near the confluence of Indus and Gilgit Rivers.

Our onwards journey is through the narrow and barren gorge of Indus and the scenery changes at Kachura, a picturesque lake of Baltistan, where we make a brief stop and later drive on to Skardu town to stay for overnight.

Day 04 Day free at Skardu

This is a free day at Skardu to make an optional trip to Satpara, another vast and picturesque lake of Baltistan. Our staff will make arrangements for porters and make last minute shopping for the expedition.

Day 05 Skardu - Khaplu - Hushe

We will drive along River Shyok to reach Khaplu, an important sub-division of Baltistan and after visiting the old mosque and Raja's palace, drive to Hushe, the last permanent village in Masherbrum Valley.

Day 06 Hushe - Parbisan

An easy and scenic walk crossing Honboro and Aling rivers takes us to Parbisan, a beautiful spot on the edge of tamarisk wood forest. The first day of trek is comfortable and rewarding.

Day 07 Parbisan - Brumbrammah

We walk through the dense tamarisk jungle and later cross a bit difficult glacial moraine to arrive at campsite. The campsite is surrounded by willow bushes and other wild flowers.

Day 08 Brumbrummah - Masherbrum Base Camp

We arrive at the small grassy patch below the cliff face, which serves as the base camp for Masherbrum Peak.

Day 09 Day Free at Masherbrum Base Camp

Day free at Masherbrum base camp to enjoy and photograph the beauty of surrounding mountains.

Day 10 Base Camp - Hushe

Return trek to Hushe, following the same trail. ( Exit Option - by jeep to Skardu in one day )

Day 11 Hushe - Tunsa ( Thalle Valley )

Driving along the right bank of River Shyok, we turn towards Thalle Valley from Doghoni and drive up to Tunsa, a small place in Thalle Valley, where we will camp for overnight.

Day 12 Tunsa - Brangsa

Trekking through the small shepherd's settlements, we arrive in Brangsa for overnight.

Day 13 Brangsa - Thalle La - Shaqiall

We cross the Thalle Pass at 4572m and descent into Shigar Valley and camp at Shaqiall.

Day 14 Shaqiall - Bukma Harel - Shigar

We start trekking with steep descent to Bukma Harel, meaning a storage settlement and keep on walking to Shigar in the evening.

Day 15 Shigar - Skardu - Gilgit

After a free morning at Shigar, a green and fertile valley famous for its fruit farms and an old mosque, we drive by jeeps to Skardu and onwards to Gilgit following the course of Indus and Gilgit Rivers.

Day 16 Gilgit - Excursion Hunza Valley

While driving towards Karimabad, the capital of Hunza Valley, we cross several villages of Nagar & Hunza valleys. We make a spectacular stop at Rakaposhi viewpoint, revealing the grandeur and beauty of the mountain.

At Karimabad, Ultar, Hunza Dome, Bublimating, Spantik and Diran are famous peaks surrounding us while Rakaposhi at 7788m dominates the whole panorama. At Karimabad, we visit Baltit Fort Museum and in the evening drive back to Gilgit for overnight.

Day 17 Gilgit - Besham

Return journey on KKH to Chilas, the place at the foot of Nanga Parbat, where hundreds of rocks are found with inscriptions, writings and drawings of old times. We will make a photo stop at Chilas and Shatial Rocks and continue driving to Besham for overnight stay.

Day 18 Besham - Islamabad

Making an early departure for Islamabad, we arrive at Taxila, the famous capital of Buddhists. At Taxila, we will visit Jaulian Monastery and Archaeological Museum and resume drive to Islamabad for overnight. At Islamabad, evening is free for packing and individual's activities.

Day 19 Departure

Our staff will provide transfer and assistance at departure and say bon voyage for your onwards journey.