It is amazing that a kind of a fabric i.e. Silk, has played a vital role in the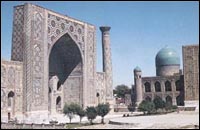 history of world. Its trade became the link between the East and West around 100 BC. through land route, which lasted until the 15th. century, when ships were invented and travelling through the sea became possible.
Traders used to export and sell several exotic products but Silk was the most important thus giving its name to the whole route, which is still remembered as The Silk Route and much of which has survived even to this day.
The original track started from Xian in China and skirting Gobi Desert to Dunhuang, where it leads to two destinations; via Taklamakan Desert to Kashgar and through Yarkand to Kashgar.
From Kashgar it bifurcated in different directions to Samarkand in Central Asia crossing the Pamirs and to the sub continent crossing savage Karakoram Mountains.
As it became popular, the route was used by the invaders, raiders, explorers, hunters, missionaries and philosophers as well. Buddhism, Islam and Christianity came to this region through the Silk Route.
Karakoram Highway ( KKH )
After a long interval of centuries, in 1966, Pakistan and China had an agreement to construct a road for mutual benefits.
Though the new route does not follow exactly the old route but the track follows mostly the same region so it can be said as the relive of the old Silk Route.
The Silk Route once connected famous landmarks, which are now lost to time, however many are still existent and KKH offers the opportunity to visit these sites to capture some of the magic of old times as historical figures like Alexander the Great, Marco Polo, Genghis Khan and Timarlane were all familiar with this legendary Silk Route.
After the independence of Central Asian states, this splendid region is open for general tourists without unnecessary formalities and restrictions. The great Silk Route oases of Uzbekistan are more accessible than ever and a journey in this region is not mere travel, but in fact, exploration. From the legendary place, Kashgar, one may select his route either to China or to Central Asian States.
The Silk Route and Karakoram Highway are one of the most popular routes in the world among epic travellers, which can be made while sitting in a temperature controlled vehicle winding through the scenic and changing vistas. Here is a complete program but you are free to select your priority destination.
ITINERARY
Day 01 Arrival in Pakistan at Islamabad
Welcome in Pakistan at Islamabad and transfer to hotel. In the afternoon we will make a city sightseeing tour Rawalpindi and Islamabad, which offers a great contrast of culture, archaeology and planning. Rawalpindi is an old city with narrow lanes and bustling bazaars while Islamabad is a modern and the only planned city of Pakistan serving as the capital of the state. Raja Bazaar, Murree Road, Lok Virsa Museum and Shah Faisal Mosque are the places of tourist interest included in the tour.
Day 02 Islamabad - Taxila - Peshawar
Following the historic Grand Trunk Road, we make a detour to Taxila and visit Jaulian Monastery and Archaeological Museum later on drive to Peshawar crossing River Indus at Attock Bridge on G.T. Road.
Day 03 Peshawar - Excursion Khyber Pass
In the morning, visit Khyber, the famous route of invaders. In the afternoon a visit to Peshawar Museum, Masjid Mahabat Khan, Qissa Khawani bazaar and a drive by Bala Hisar Fort is our main activity.
Day 04 Peshawar - Takht-e-Bahi - Saidu Sharif
We depart from Peshawar to the Buddhist site of Takht-e-Bahi and later on cross Malakand Pass to enter in to Swat Valley, making a stop at Churchill's Picket and Shingerdara Stupa en route.
Day 05 Saidu Sharif - Besham
After visiting Swat Museum and Butkara, an excavated site, we start driving for Besham on KKH crossing picturesque Shangla Pass at 2134m.
Day 06 Besham - Gilgit
Following the upstream course of River Indus, we will make photo stops at Shatial and Chilas rocks with ancient graffiti's on it. Nanga Parbat viewpoint offers breathtaking panorama while our next stop will be at the unique point where three mountain rages, Karakoram, Himalayas and Hindu Kush meet and then the last viewpoint is the confluence of Indus and Gilgit Rivers before arriving at Gilgit.
Day 07 Gilgit - Karimabad ( Hunza Valley )
Gilgit has been the most important garrison town since ages. Now it is the largest and most important commercial center of the region, settled on the banks of Gilgit River.
After making a brief tour of the town, we depart for Hunza driving on KKH and make a spectacular stop at Rakaposhi viewpoint. Crossing several villages of Nagar and Hunza states, we arrive at Karimabad, the capital town of Hunza Valley.
Day 08 Karimabad - Sightseeing
Ultar, Hunza Dome, Bublimating, Spantik and Diran are famous peaks surrounds us at Karimabad, while Rakaposhi at 7788m dominates the whole panorama. At Karimabad, we visit Baltit Fort Museum and Altit Fort. Rest of the day is free for walking around villages and famous terraced fields of Hunza.
Day 09 Karimabad - Gulmit
This is a leisure day to enjoy the superb landscape of Hunza Valley. We depart for Gulmit, a serene place in upper Hunza to enjoy the mountain vistas uninterruptedly and stay in this calm and quite village for overnight.
Day 10 Gulmit - Taxurgan ( China )
We drive to Sost and after immigration formalities at Sost border post, we climb the world's highest border trade route at Khunjerab Pass ( 4733m ) and descend into China territory to arrive Taxurgan, a small village in Xinjiang province of China and stay for overnight.
Day 11 Taxurgan - Karakol Lake - Kashgar
After departure from Taxurgan, we make a stop at Karakol Lake offering excellent views of Muztagh Ata peak in the Pamirs. We continue our drive to Kashgar, where time seems to stand still.
Day 12 Kashgar - Sunday Bazaar
The colorful Sunday Market of Kashgar is famous since ancient times and people still use barter system for their trade. At Kashgar, we also visit Eid Gah Mosque and tomb of Abakh Hoja the Muslim Saint who spread Islam in Xinjiang Province.
From Kashgar Onwards
First Option - Kashgar to Xian
Day 13 Kashgar / Urumqi - Turpan
By air to Urumqi and after a city tour including the Museum of National Minorities and History and the Ardaoqiao Market we depart for Turpan.
Day 14 Turpan - Sightseeing
At Turpan, the lowest in the world, 505 feet below sea level, we make a sightseeing tour including Gaochang, the Flaming Mountain and the Bezkilik Thousand Buddha caves followed by Jiaohe, the Emin Tower and the famous Karez System.
Day 15 Turpan - Dunhuang
A train ride will take us to Dunhuang from where the ancient Silk Route bifurcated for northern and southern routes.
Day 16 Dunhuang - Sightseeing
2000 years old Dunhuang was one of the most important Silk Route caravan stops. We will visit the amazing sand dunes in the evening.
Day 17 Dunhuang / Xian
A short flight takes us to Xian, the original starting point of the Silk Route, still the provincial capital. Evening free to walk around where once Marco Polo had strolled in medieval period.
Day 18 Xian - Sightseeing
Xian has been the importance of being the capital of 11 dynasties. A city tour of Xian includes a visit to the Tomb of Emperor Qin Shi Huangdi and its terracotta figures, traditional Banpo Neolithic Village, Chinese cradle of Calligraphy and the Big Goose Pagoda.
Day 19 Xian / Beijing
Taking a short flight to Beijing we arrive at one of the largest cities in the world, known as Peking in the past, where rest of the time is free at leisure.
Day 20 Beijing - Sightseeing
The Beijing city tour includes Imperial Palace of Ming and the Qing dynasty ( Forbidden City ) and Summer Palace with its lovely pagodas, pavilions and courtyards situated around Kunming Lake.
Day 21 Departure
Our staff will provide transfer and assistance at departure and say bon voyage for your onwards journey.
End of the Tour
From Kashgar Onwards
Second Option - Kashgar to Tashkent
Day 13 Kashgar - Naryn ( Kyrgyzstan )
We depart from Kashgar and cross Torgat Pass at the border to enter into Kyrgyzstan and arrive at Naryn, a small border town established to guard the Silk Route going westwards.
Day 14 Naryn - Bishkek
Driving through green pastures, yurta settlements and nomad caravans, we arrive at Bishkek, the capital city of Kyrgyzstan.
Day 15 Bishkek - Tashkent ( Uzbekistan )
After a brief city tour including a visit to History Museum, Frunze's House & Museum, The State Fine Arts Museum and Osh Bazaar, we drive to Tashkent, the capital of Uzbekistan.
Day 16 Tashkent - Samarkand
In Tashkent, we make a city tour and later on drive to Samarkand, the place of beauty, sense of nobility and elegance. On arrival in Samarkand, we transfer to hotel for overnight.
Day 17 Samarkand - Sightseeing
Developed mostly by Tamerlane, Samarkand is famous for its buildings of Registan Square, Bibi Khanum Mosque, Mausoleum of Tamerlane, Observatory of Ulughbek, Shahi Zinda and the local bazaar, which are included in our city tour.
Day 18 Samarkand - Shakhirsabz - Bukhara
We depart from Samarkand and after visiting the birthplace of Tamerlane at Shakhirsabz, we drive to Bukhara, a 2500 years old city.
Day 19 Bukhara - Sightseeing
In Bukhara, our city tour includes a visit to Mausoleum of Ismail Samani, Ark Fortress, summer residence of former Emirs, the famous Kalyan Minaret and Lab-e-Hauz. We also visit the statue of Sufi Hoja Nasruddin, caravan Sarai of Nadir Dinvanbegi and a make a walk in the old city.
Day 20 Bukhara - Urgench
Driving through a completely different landscape through the Kyzylkum Desert, we arrive at Urgench, a typical Soviet town and provincial capital located on the delta of Amu Darya.
Day 21 Urgench - Khiva / Tashkent
We drive to Khiva and visit the walled city, Muhammad Amin and Rakhim Khan's Medressa, Tosh-Khovli Palace, Slom-Huja Medressa and Minaret and return to Urgench and fly to Tashkent.
Day 22 Departure
Our staff will provide transfer and assistance at departure and say bon voyage for your onwards journey.
End of the Tour